Hi All,
I came across this site while searching for some more information about my new furry little friend.
This is Sydney, he is 5 years old and we adopted him on Saturday. this is from before we picked him up.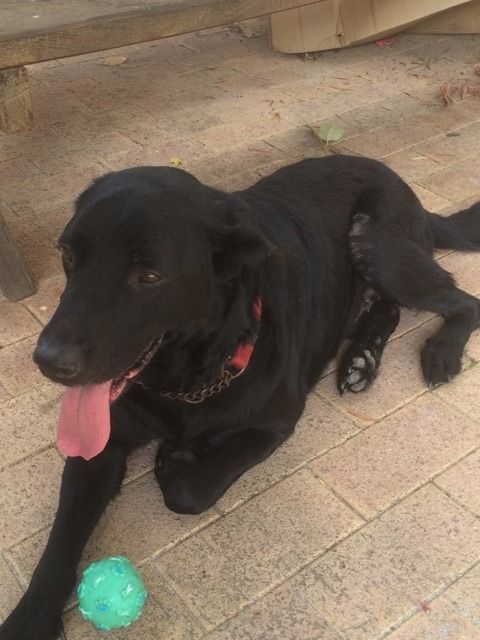 He seems like he has had a bit of a sad story, my brother in law took him in as apparently his owners had to move interstate for medical treatment. However my brother in law already has a very boisterous 1 year old male black lab who seemed to stress Sydney out a lot so we offered to take him in.
As you can see he has a bit of a skin condition on his hind legs and is missing some fur, his skin is also quite dry on the lower art of his back and the tip of his tail which is also quite thinly covered with fur. His old owners said that he has allergies which they were treating with an over the counter antihistamine called Loratadine. My brother in law also noticed he had a limp on his front left leg which was explained as a sprain that he received while in a kennel and the Vet at the kennel had checked him out and said all he needed was rest.
We took him to the vets on Monday to get him checked as we had a feeling there was more to his story than what my brother in law had been told.
The vet has prescribed him a course of steroids, antibiotics, with a daily dose of cetirizine as an antihistamine and a medicated shampoo and conditioner to use every second day to help with his skin. He is booked in for a skin scrape on Tuesday where we can hopefully narrow down the cause. However we have already seen a marked improvement in his coat but this could also be that we are feeding him high quality Blackhawk Fish and Potato dog food (I suspect he may have been given cheap stuff previously). 
More of a concern is his limp which we suspect may be elbow dysplasia. The vet is going to inspect it further when he is sedated for the skin scrape. He walks/runs on the affected leg with out any problems and only seems to limp occasionally or lift up is paw when standing still. Hopefully this can be treated without surgery but otherwise it will be about a $4,000 procedure for the arthroscopy.
The poor guy has been ordered bed rest until the vet can inspect his leg which is so sad as he really really loves chasing his ball.
Apart from his medical conditions he really is a sweet natured obedient boy (he pulls a bit on a lead but we will get that sorted). I am starting to suspect that his old owners may have been spinning some tales and the real reason he was given up is they didn't want to pay to fix his leg and skin.
Hopefully we have some good news over the coming weeks and we can get him a lot more comfortable.